As of August 2016 some 60% of worldwide internet users used Google Chrome as their web browser of choice and that figure is steadily increasing.
This means that on average, for every five people that visit YOUR website, three of them will be using Google Chrome. So when Google talks about upcoming changes to Google Chrome we don't have much choice other than to listen to what they're saying.
The latest changes that Google are introducing will start in January 2017 and will affect EVERYONE who has a website.
The question that should be on everybody's lips is:
Is my site currently loading via HTTP or HTTPS?
If your website is currently loading insecurely via HTTP then prepare for a decrease in traffic starting early 2017. It may sound a bit dramatic, but Google have announced that if websites don't load securely via HTTPS they will be labelling all such websites as "Not Secure".  Like this: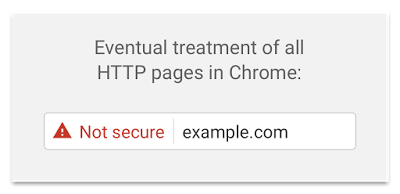 Initially, they will roll out this warning message in January 2017 to websites that collect Passwords and Credit Card details over an insecure connection and will then begin rolling out the warning to EVERY website that doesn't load via HTTPS.  Other browsers are expected to follow suit.
On the plus side, Google will be ranking HTTPS sites higher than HTTP.
So how do you prepare for SSL Armageddon?
First of all, Pukka Web Hosting is providing all of its clients with FREE self-service Comodo SSL Certificates for ALL websites that are hosted with them; this relieves clients of the need potentially to spend a small fortune on SSL Certificates and their renewals. Our SSL Certificates are already available and are ready to use. Clients can confirm this by logging into their cPanel and clicking on the SSL/TLS icon:

However, just having an SSL Certificate installed doesn't mean that your website is going to automatically load securely via HTTPS!
If you try and visit your website via HTTPS probably you will find that it loads BUT without displaying the green padlock in your browser's address bar. The green padlock indicates that the page has been served securely and this is what you need to be aiming for, to avoid getting your website flagged as "Not Secure" by Google.

To get the green padlock to appear, ALL elements of your website (pages, style sheets, images, javascript, etc.) need to be loaded securely via HTTPS rather than HTTP. So you, or your web developer, need to manually edit your web pages and databases (if applicable) to pull all content via HTTPS rather than HTTP. You then need to redirect all traffic to HTTPS and ensure that ALL pages on your website are loading correctly via HTTPS.
…OR we can do it for you!
The Pukka "Done for You" Package
Unless you are an experienced webmaster and fully understand the way websites work when it comes to serving content securely then you may well find yourself punching your computer screen in rage when it comes to the task of trying to get EVERY one of your web pages to load securely!
That's why we are offering to take the stress away from you by making EVERY page on your website compliant with the new Google SSL requirements. Why spend hours, days, weeks or even months trying to complete a task when you can save a LOT of time, effort and stress by having the team at Pukka Websites do EVERYTHING for you.
This includes:
Ensuring that the SSL Certificate has been set up correctly.
Editing the source files of your website to ensure all elements are being loaded via HTTPS.
Editing your database (if applicable) to ensure all elements are being loaded via HTTPS.
Checking EVERY page on your website to ensure that they ALL are loading correctly via HTTPS.
Redirecting all traffic to the new HTTPS version of your website.
Performing a final check on your website to ensure it is fully compliant with Google's SSL guidelines.
You then will be Google compliant and your visitors won't see an "Insecure Website" warning when visiting your site.
How much does it cost?
Not as much as you might think! The price starts at $69.95 for one website and if you have multiple websites to convert then we offer a sliding price scale. It usually takes us no more than 24 hours to fully convert a website to load correctly via HTTPS.
Please note: This price does NOT include the cost of an SSL Certificate which, if you are not hosting your website with ourselves and therefore do not qualify for our free certificate, you will have to buy and set up (or have set up) on your present hosting, before we can work on your site.  Should you choose to transfer your hosting to Pukka Web Hosting, then we can provide the necessary free certificate in addition to transferring your site across free of charge.
This upgrade is included in the annual maintenance plan for those of our clients who subscribe to this service.
Is there a guarantee?
Certainly!
In the unlikely event that we are unable to fully convert your website to load securely via HTTPS then not only will we provide you with a full refund but we will also provide existing clients with two month's free website hosting as well.
So have Pukka Websites convert your website to HTTPS and be safe in the knowledge that your website won't be listed as "Not Secure" by Google Chrome or Firefox and that your website's visitors will be able to browse your site knowing that they are doing so over a secure, encrypted connection.
Does my site have to be hosted with yourselves to enable me to use this service?
No – we are happy to convert your site even if it sits on third-party servers but, as mentioned above, you MUST have an SSL Certificate installed before we can carry out any work on your site.
How long will it take?
The work itself normally is completed within 24 hours but all orders are queued and dealt with strictly in the order in which they were received so, depending upon our order book at the time your order is placed, it may take a little longer to convert your site.
How do I order?
Simply contact us here, letting us know that you would like us to carry out this work and we'll send you a payment request.