Transfer to Clockwork Internet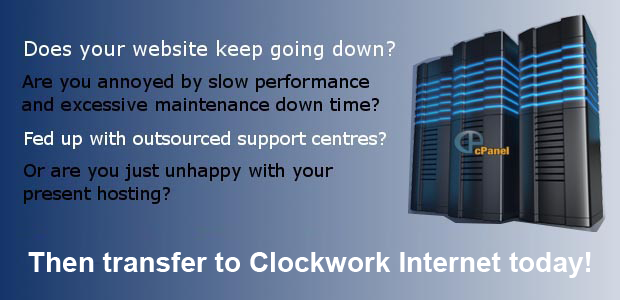 We are here to help you transfer your hosting to Clockwork Internet. We can talk you through the transfer process or if you prefer, we are happy to deal directly with your present host and implement the changeover on your behalf. This is a FREE service available when you buy any new Clockwork Internet hosting plan. It is always our aim to make the process as easy and simple for you as possible.
When you ask us to undertake this exercise on your behalf, the very first thing that we shall do is take a full backup of your site from your present host, to ensure the safety of your current files. We will then set up your new Clockwork Internet hosting account on our servers and upload your site. Once this is done we will arrange the change of name servers so that your domain will point to your new hosting account with ourselves. At this point your site can be viewed on your present host's servers and also is ready to be viewed on ours. Thus, when the name server details are changed, your site visitors will not notice any change at all. It will be a completely seamless operation.
When you transfer your hosting to Clockwork Internet, it is not necessary to also transfer your domain registration if you don't wish to do so, although here at Clockwork Internet we do securely maintain and administer, hundreds of domain names on behalf of our clients.
Contact us today to discuss our web hosting plans and allow us to eliminate any hosting problems that currently you may have.